Terror
The recent media report about the journalist whom some goons threatened to strip to check his religious identity sparked off a dark memory long buried in my psyche.
I was a teenager, mad about football as all bongs are genetically predetermined to be, and a Mohanbagan football club supporter as I was from West Bengal, or what is colloquially called a Ghoti. Those were the days of fanatical support for the three clubs in the maidan, the others being East Bengal, supported by the people who migrated from East Pakistan, survivors of the pogrom against Hindus there during partition of India on religious grounds; and Mohamedan  Sporting, supported by the local Muslims. The fact that East Bengal captain was Mohammed Habib, and Mohamedan Sporting was captained by a Hindu Brahmin whose name I don't recollect made no difference, there was bad blood between the supporters, with strong communal overtones.
That year, the match between Mhd Sp and EB was crucial for my club, Mohan Bagan, as a EB defeat would put MB firmly in the lead in the League. So all MB supporters were hoping for a MS victory.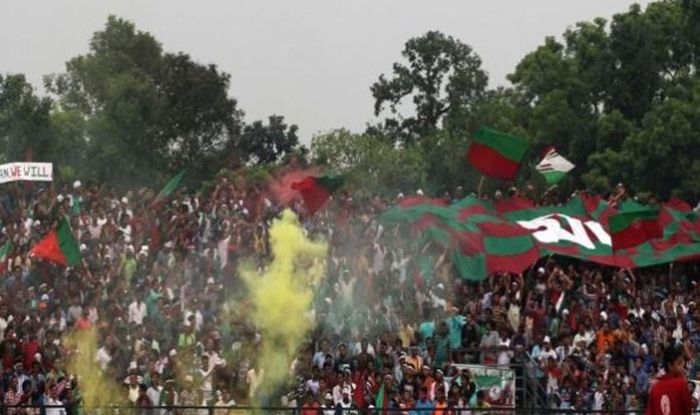 I managed a ticket from an East Bengal supporter friend, and was attending the match, sitting in the EB gallery amongst their rabid fans. To enter the stadium, I had braved mounted police keeping the lines straight, as huge crowds had arrived. A tall barricade separated the rival fans, but as the match heated up, missiles were being thrown across from both sides. Towards the end, EB scored. There was huge jubilation in my side of the barrier, in which I could not wholeheartedly enter. Then someone noticed my crestfallen face, and shouted that I seemed to be a MS supporter. Suddenly the mob turned on me, and my protest that I was a Hindu Brahmin from erstwhile East Pakistan and EB supporter had some skeptics. Nor could I produce the sacred thread, my caste mark, to prove my point, as I did not believe in Caste or religion and did not wear one. Then someone suggested that they should strip me and check. Muslims are circumcised at birth, and it is a sure indicator of religion, and therefore club loyalties.
Now I was seriously scared, as for medical reasons I had been circumcised during childhood. Confessing that I was a MB supporter wouldn't help either, as the fans hated the premier club even more. That was when I knew sheer terror. But seeing my young age and state, as I was a school kid then and about to cry, they let me off with a few shoves, and I left among a shower of missiles.
My ordeal didn't end there. Outside, jubilant EB supporters had hurled derogatory remarks laced with communal slurs at the MS supporters, and they had retaliated with violence, leading to a riot like situation. Suddenly, me and a group of EB supporters of the more harmless kind travelling together in a minibus found ourselves surrounded by a sword and rod wielding mob shouting Allah Hu Akbar, the war cry of Islamic fanatics. The bus was being hit, and the windows were being broken. There was talk of setting the bus on fire. Our co passengers were in panic, and a friend was saying that if anyone asks, he will claim that he is a Muslim. I am ashamed to say that, here, I was feeling secretly relieved that I was circumcised due to medical reasons and could claim to be a Muslim to save my life. Anyhow, this time too, the ordeal did not have to be faced, as the timely arrival of the police helped us escape, shaken but unhurt.
A similar situation was faced years later, at the height of Punjab terrorism, when we were travelling by bus from Delhi to Himachal, on the way to a trekking expedition. When passing through Punjab, we saw the road sign proclaiming Lalru. A short while back, this place was in the news as a bus had been stopped by the terrorists and all Hindu passengers lined up and shot dead. Only one bearded Hindu escaped pretending to be a Muslim. The name created uneasiness, and we were talking about it, when a Sikh gentleman waived his hand, and our bus stopped. This had exactly been the modus operandi in that heinous incident. We were petrified. My wife is a Sikh, and my friends started telling her to plead for their lives too. But she was equally frightened, for, not being religious, she had cut her hair, and would not be able to convince them of her identity, or worse, be targeted for being an apostate. However, the passerby turned out to be an innocuous villager known to the driver who was seeking a lift.
These incidents scar us, and remind us that how minor changes in dress code can lead us to murder each other, and humanity is quite literally skin deep, as thick as a thread, or a hairs breadth in scope. Terror has no religion. I have been terrorized by Muslims Hindus and Sikhs, and been terrified of my identity as well as terrified of being identified as a member of another community.